Cat Night-Light Tap The Kitty To Turn It On/Off

Fast Delivery - Within 14-21 business days


Description:
Slap the kitty and the silicone lamp magically turns on. Bump it again and the color shifts. A 3rd gentle nudge turns the lamp off. We're not sure how it works, but it is a whole heck of a lot of fun. 5"H x 5"W. Made of silicone. Brilliant LED light shifts colors. Takes 3 AAA batteries (not included).
Highlights:
Item is eligible for Rush, 2 Day, or Overnight Shipping
Taxable if shipping to MN
Switches, button, and on/off tabs are so boring to use. Slapping is the new way to do things around here. This fun cat lamp lets you give it a tap to turn it on.
The way it works is, you just give the kitty lamp a light slap to turn it on, then give it another slap to change modes into a color shift mode where it slowly rotates between a plethora of different colors. Then just give it one more tap if you'd like to turn it off. There are sensors inside of the cat lamp that will detect your abuse and switch it through the modes.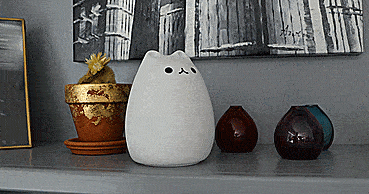 The cat night-light tap lamp is made from silicone, and has a very minimalistic look with just two small ears that point up from a round teardrop shaped body of the cat. The only other things on the cat lamp are the cat's eyes and whiskers.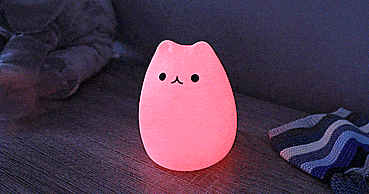 A perfect night-light for a kids room, baby room, or play room, the cat lamp also makes for a great lamp inside a bathroom. The cat tap lamp is powered by 3 AAA batteries (not included) that are easily inserted or replaced on the bottom of the cat, it uses energy efficient LED lights on the inside, and it measures 5 inches tall x 5 inches in diameter
More Information
May purchase more than one
Ships within 5-7 business days (Holiday Season)
No need to redeem voucher
Valid for U.S and Canadian residents only
No delivery to Alaska or Hawaii
Please provide shipping information at checkout
Shipping address cannot be changed after purchase
Read the deal FAQ for details.